Fast Forward, a new audio documentary series from Tomorrow Unlocked, the online magazine for digital culture created by Kaspersky, examines trends shaping technology from the perspective of the recent past. It distills practical learnings that might have been missed in the flurry of forward momentum.
The 6-part series is written and presented by renowned BBC radio broadcaster and cultural theorist Ken Hollings, a MIT Press author on technology history. His publications include 'Bright Labyrinth: Sex, Death and Design in the Digital Regime' and 'The Space Oracle,' exploring our relationship with the cosmos.
In each 20-minute episode, Hollings introduces his perspective on technologies impacting our work and lives, including spheres of urbanism, space and robots, and interviews technology experts from industry, journalism and academia. During the special "Safety Zone" part of the documentary David Emm, Principal Security Researcher at Kaspersky, will introduce new cybersecurity research on topics including dark web data leaks, social robots, and remote work and security. All this, accompanied by original music and 'binaural' sound design, creates a hyper-realistic, immersive listening experience.
'Fast Forward' documentary launches 9 June on all audio and podcast channels, including Spotify, Google and Apple. Ken Hollings will be in conversation on Unlocked Live, Tomorrow Unlocked's live YouTube series, Wednesday, June 9, 5 pm CET at: https://www.youtube.com/tomorrowunlocked
Episode schedule:
9 June:
Episode 1 - Clouds of Personal Data: Welcome to the Labyrinth
A fresh look at data access in the age of The Cloud.
With Tung-Hui Hu (University of Michigan) and Tanya Basu (MIT Technology).
16 June:
Episode 2 - Future Supermarkets: Scan Purchase for Maximum ScoreCarts listeners through the aisles of today's supermarkets, where interactivity and augmented reality are shaping the shopping experience.
With designer Benjamin Parry and architect Carlo Ratti (MIT's Senseable City Lab.)
23 June:
Episode 3 - Future Cities: Nowhere to Go but Here
Exploring how COVID-19 has ushered in a new era of 'digital suburbs.'
With Shoshanna Saxe (University of Toronto) and Sarah Akigbogun (Women in Architecture.)
30 June:
Episode 4 - Human or Machine: A plus B minus C
Set in the haunted Victorian parlor, we look at a famous test for machine intelligence from that era and its implications today.
With artist Shardcore and AI tech author James Bridle.
7 July:
Episode 5 - Robot Colleagues: R.U.R. or Have U Ever Been?
100 years after Karel Čapek's play coined the term 'robot,' we explore the automated workspace and ask why machines should look and behave like us.
With Dr. Beth Singler (University of Cambridge) and Professor Alan Winfield (Bristol Robotics Lab.)
14 July:
Episode 6 - The New Space Race
The final episode considers new space missions like the lunar space station, mining on the Moon and crewed missions to Mars.
With Chris Welch (International Space University), Tanja Masson-Zwaan (International Institute of Air and Space Law), and Space engineer Vinita Marwaha Madill (Founder of Rocket Women).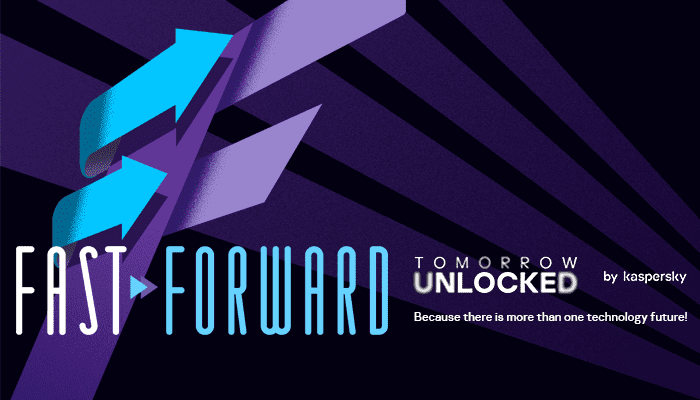 More interviews and videos from the series available from 9 June at Tomorrow Unlocked.
For further information on the series, contact: FastForward@Kaspersky.com
About Kaspersky
Kaspersky is a global cybersecurity and digital privacy company founded in 1997. Kaspersky's deep threat intelligence and security expertise is constantly transforming into innovative security solutions and services to protect businesses, critical infrastructure, governments and consumers around the globe. The company's comprehensive security portfolio includes leading endpoint protection and a number of specialized security solutions and services to fight sophisticated and evolving digital threats. Over 400 million users are protected by Kaspersky technologies and we help 240,000 corporate clients protect what matters most to them. Learn more at www.kaspersky.com.
Kaspersky launches audio documentary series exploring the secret history of the network technologies around us
Kaspersky
Technology-led progress means following the latest innovations without pause: A frantic pace that can stop us learning from technology's past.