Help recognize all that seniors have done and still are doing by helping them be more productive and healthy than ever with a rundown of great apps geared for older users. Along those lines, we also have information about essential device settings to help older users maintain and maximize the functionality of their devices and apps.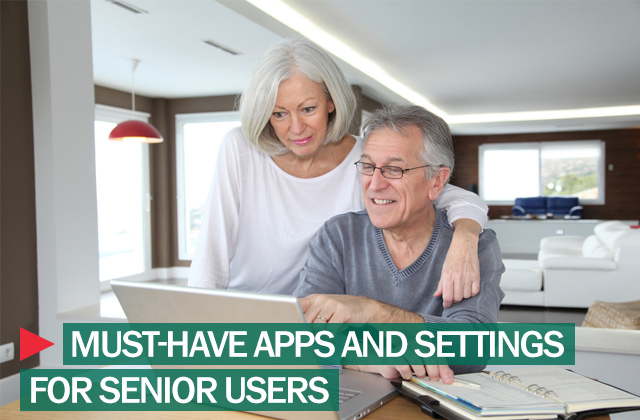 These 13 apps will help seniors keep in touch, monitor their health and stay sharp:
Communication
Skype: An obvious choice, Skype lets users easily connect with friends and family over long distances with an easy-to-use interface.
A Story Before Bed: This great app lets grandparents record audio and video of themselves reading children's classics from the apps library, then send it to their grandchildren, who then can read along to the story images while also watching the image of their grandparent reading the story in a corner of the screen. It can provide a unique form of intergenerational long distance communication.
Dragon Dictation: Dragon Dictation helps users send emails, texts and surf the web through accurate voice dictation and a user-friendly interface.
Health
Pill Reminder by Drugs.com: Sends reminders for to take medications and refill prescriptions, and can be set up for multiple user operation so family members and others can help administer care.
My Pain Diary: This award-winning app helps users keep track of their symptoms, helping to ensure that doctors get accurate information from their patients.
Blood Pressure Monitor: Helps users track vital health information; includes an email import/export features that helps users communicate data with healthcare providers.
Games/Learning
Crosswords: There are lots and lots of great games and lifelong learning apps out there for seniors, but what better place to start than the timeless classic of crossword puzzles? This app has all the fun of newspaper crossword puzzles with the enhanced usability inherent in devices. It's also legit: No less a definitive crossword authority than The New York Times has given it rave reviews.
Lumosity: This brain game quiz app game is meant to be fun while also providing an energetic workout for the mind that is designed to enhance memory and cognitive speed.
TED Talks: What better way to stay sharp and educated on the latest issues and trends than with the app for the popular lecture series featuring the best and brightest minds in the world?

To help simplify things, senior users should make sure their apps and programs are set to update automatically so they always have the latest and most secure versions of these programs.
Daily Living Aids
Find my iPhone: Sometimes we lose things, regardless of our age. This great app lets users find lost iOS devices — which hopefully are no further away than the couch cushion. If they are truly lost, the app lets you lock them remotely.
Silver Surf: This free web browsing app features large navigation buttons, text zoom and high-contrast page viewing.
VizWiz: This iPhone app lets users with fading or minimal eyesight take a picture of an object they can't identify, then use voice control to ask what the object is. The image of the object is then displayed to VizWiz operators and members of the user's social network to respond with a rapid answer.
Voice Reading: This app can read aloud texts, files and content from web pages for users with impaired eyesight.
There are a ton of great apps out there for seniors that can help them in all facets of their lives; to get more ideas, check out this great link from assistedliving.com.
Settings and Management
Of course, installing, launching, updating and effectively using devices and apps is an issue for some older users. Parental controls aren't just for restricting childrens' activities — they can also be used to simplify things for seniors. Controlled user accounts can allow adult children to help their parents manage their computers, devices and apps by restricting the number of options they have access to so they avoid confusion and inadvertently launching programs. Controlled user accounts can also allow remote logins to help manage activities.
To help simplify things, senior users should make sure their apps and programs are set to update automatically so they always have the latest and most secure versions of these programs.
iPhone and iPad users have several built-in settings that can enhance the usability of their devices. Under Settings/General/Accessibility are several options that can help: VoiceOver, Zoom, Speak Selection, Dictation, Large Text and even Braille Displays for iOs are all settings that can be employed to help users with impaired vision and hearing to still get the most out of their iOS devices. Android has similar features, including TalkBack and Explore by touch.