Rosemarie was born in the Philippines but now lives in Malaysia, while her husband is from India. After work she reads books and writes poetry. She hopes to one day write a travel haiku diary in Japan. Her work is rather international too: at Kaspersky Rosemarie is a Corporate Communications Manager for Southeast Asia (SEA).
— You live in Kuala Lumpur, but your name sounds Spanish. What's the secret?
— Ha-ha! That's because I'm from the Philippines. We're called the "Mexicans of Asia" as we were a colony of Spain for 333 years.
— In my country, people from the Philippines are mostly known as massage therapists or babysitters. And they're always women! I've just realized I've never met a man from the Philippines!
— That's totally understandable. It's Philippine women who usually go abroad to earn for their family. And you're right: Filipinas abroad are usually helpers, babysitters or nurses!
Filipino men are fond of basketball and… beer. That's how I'd best describe them; however, I'm actually not so familiar with Filipinos — my husband is from India.
— Did you meet him in Malaysia?
— No. I "met" him through Instagram while I was in the Philippines. We're currently in a long-distance marriage. He comes to visit me from time to time, and I go to India.
— What are the main differences between the Philippines and Malaysia?
— Well, the climate is almost the same: both the Philippines and Malaysia are tropical countries. But because Malaysia is not part of the Pacific Ring of Fire, it doesn't get the powerful typhoons or earthquakes like in the Philippines. I always get shocked reactions from my Malaysian colleagues when I say that Filipinos are used to naturally-caused catastrophes such as these.
The language is also different. My mother tongue is Filipino (Tagalog) and our second language in the Philippines is English. Here in Malaysia, people speak Malay (Bahasa), Chinese, and English. The surprising thing I learned is that there are some Filipino words borrowed from Malay. To name a couple, both languages have the same word for five (lima) and child (anak).
In terms of habits, Filipinos are admittedly… noisier! It's normal for us to chit-chat loudly — even in busy public places. And it's considered normal to comment on people's weight, social status, salary, or any personal matters! I'm not sure if it's because I'm a foreigner here, but I think Malaysians are more polite and reserved compared to Filipinos.
— So, you're not feeling homesick?
— Oh, I am! No country can replace your motherland. I mean, there are lots of things about the Philippines that break my heart, but my family is there, the food I grew up eating is there, and my fondest memories are there too. So there's still a part of me that aches for home.
— Why did you move to Malaysia?
— I moved back in 2019 to take on my new role at Kaspersky. It was a huge career milestone for me, though it was the scariest thing I've ever done as it was my first time outside my motherland.
— Back in the Philippines, had you any experience of cybersecurity, hackers and things like that?
— Oh, not really. The first time I read about cybersecurity was when researching an article I was writing — about a mobile Trojan — for Kaspersky. That was in February 2015 — seven years ago. You see, before I took my current position with the company I was a writer for a PR agency that worked for Kaspersky in the Philippines. My main task was to write media announcements and news articles.
— Wow, learning about Trojans only in 2015! Does that mean computer life in the Philippines is calm and peaceful?
— Possibly. It's probably more that we're quite oblivious to the threats. Or perhaps it's because we were quite late in terms of cybersecurity, IT technologies in general, and awareness as compared to Western countries. In fact, even now, when mobile wallets are becoming more and more popular in the Philippines and in Southeast Asia in general, we're still doing proactive campaigns to urge people to use security solutions to protect their smartphones — because not many folks install AV or internet security tools on their phones.
News about hacking and malware has reached our shores and we can see that awareness is much improved now. But when it comes to action, there still remains a gap that needs to be addressed.
— So you were a PR writer, and now you're a Corporate Communications Manager for SEA. What's your current job about?
— It was a huge shift to make! Before this, I only wrote PR articles for Philippines-based media and readers. Now my main tasks include developing and implementing regional media relations activities, communications plans, and local content campaigns. The end goal is to maximize positive publicity for Kaspersky and to maintain a healthy level of coverage and exposure for us here.
So now I'm in the driver's seat, deciding and making strategies for the content campaigns and events that need to be relevant for the six key countries here — Indonesia, Malaysia, the Philippines, Singapore, Thailand, and Vietnam. Southeast Asia is incredibly diverse, so our communication strategy here is not one-size-fits-all. Each country is at a different stage of technological advancement and cybersecurity maturity so we adapt and strategize as we go along.
Writing articles, though, remains one of the most fulfilling parts of the job for me.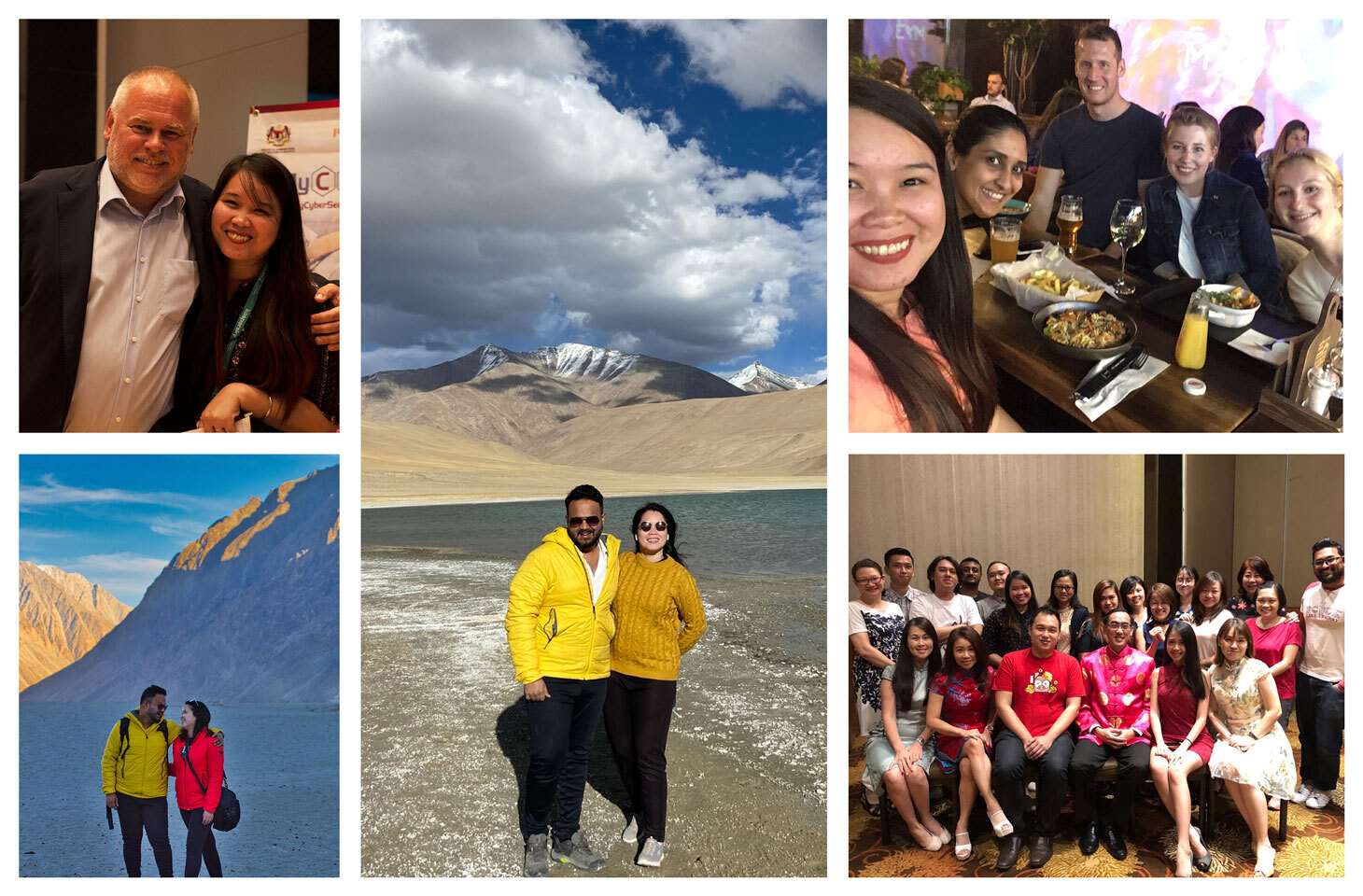 — You know the Philippines and Malaysia well. But how do you manage campaigns and events for Indonesia, Singapore, Thailand, and Vietnam? Do you visit these countries often? Or do you rely on local colleagues?
— Before the pandemic, I used to visit these countries a lot. But when the lockdowns started, I had to rethink our PR strategies amid the new reality. That's when remote collaboration became a thing.
As soon as I took on this role back in 2019, I started making regular calls with our local and regional sales teams to keep track of their business goals and priorities. This proved to be essential during the pandemic. Because we've built that internal rapport, our collaboration of PR, marketing and sales in SEA is highly integrated — both at the local and regional levels.
— What do you think of Singapore? It's promoted as a "new information era city", but what does it mean for our corporate strategies?
— Singapore is indeed one of the most advanced places in Southeast Asia in terms of technological advancement and IT security posture. Topics of media inquiries here are at more advanced levels: the Internet of Things, implementation of regulations and policies related to cybersecurity, telehealth, 5G, cryptocurrency, and more. Some of the media here are also proficient in technical things like coding and reverse engineering.
Factoring all this in, our content for Singapore can be technical — like "a deep dive into APTs", or advanced — like "securing smart cities". For instance, in 2020, we had a case study about how Kaspersky ICS secured a Smart Floating Fish Farm in Singapore. As of now, it's the only case study in SEA that involved industrial control systems.
— How was your job affected by the Ukrainian conflict? Your colleagues in Europe saw a lot of negative comments in the news and social media, and in some countries our products are banned…
— Yes, we're also following the conflict here in SEA, monitoring each news item and update, addressing concerns coming from all directions, ensuring that all of our speakers and stakeholders are informed and prepared to face questions and requests from partners, customers, and the media.
But we're also aware that our colleagues in Europe are the most impacted. I keep talking to Anne, my friend and colleague from Germany, during these challenging times. I think it's important to know how we're all doing in the company, because to some extent we're all in the same boat in this storm.
Interestingly, the consensus I've observed with my colleagues from here and in other parts of the world is that the impact of this war on us — personally and professionally — is nothing compared to the Ukrainians and Russians whose families are being directly affected by this.
— Have you visited Russia? If so, what were your main impressions?
— Oh, yes! I visited with a colleague, Erin, who used to handle PR for Australia and New Zealand. That was August 2019. The funniest thing was that we're both tropical girls — Filipino and Malaysian — and before flying, we needed to check Google for the season in Russia: we learned that it was summer! Still, when we arrived, both of us were shocked by the 9˚C temperatures of a morning. You see, when we say summer, it means 40˚C and above, while the coldest temperature in the Philippines is generally around 19˚ degrees — no lower. So 9˚ for us seemed positively arctic! Thankfully, our colleague Marina gave us really thick jackets so we survived.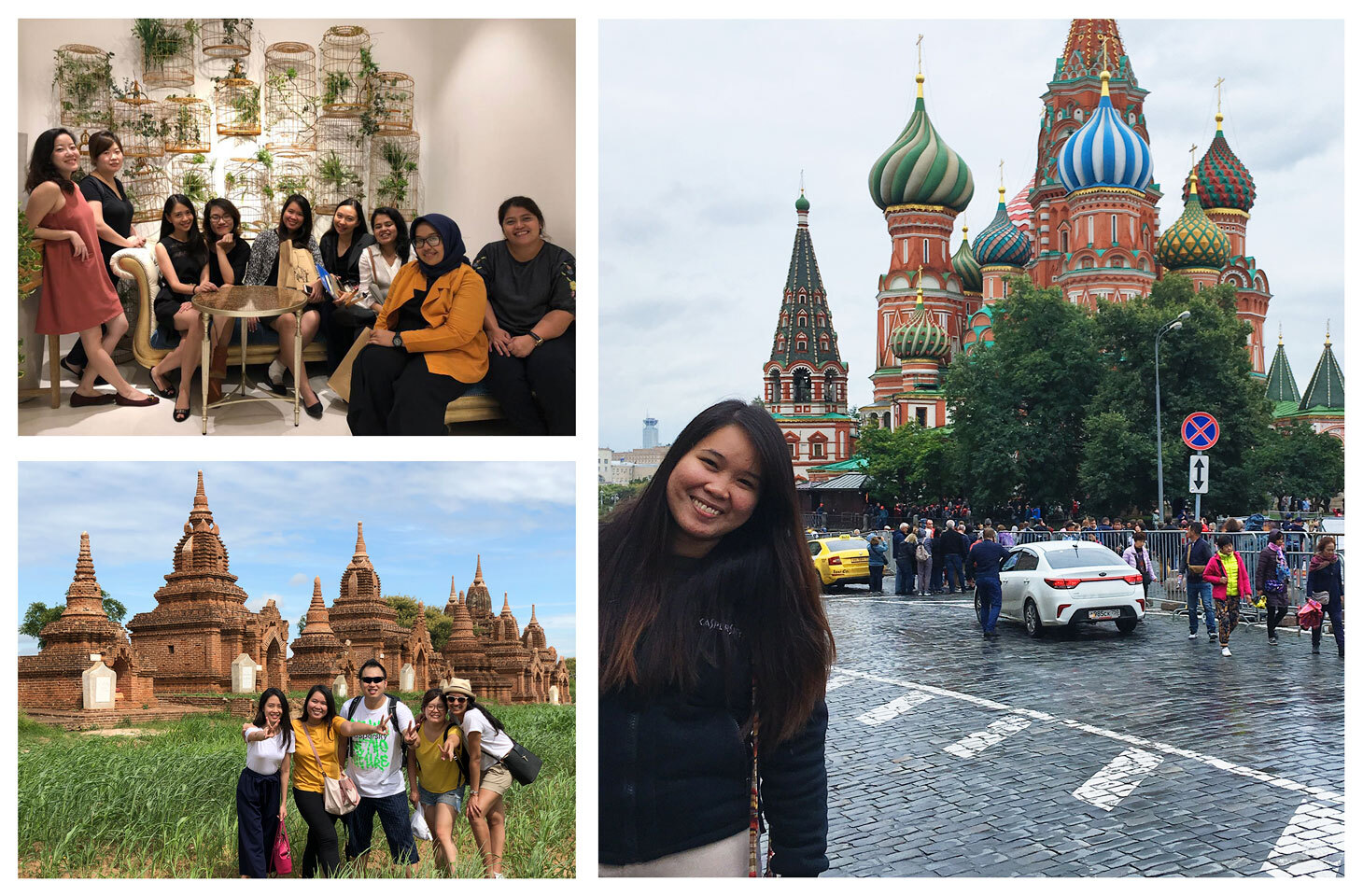 It was also my first time in the European region and I was amazed by the architecture — both classic and modern. It was a delight to see Pushkin Square, too, because I love poetry, and Alexander Pushkin is considered by many as the greatest Russian poet. I bought a book of his as a memento. Our colleagues were very chilled but also friendly, too. Nastya and Anya kindly gave us a tour around Moscow and it was really a memorable occasion.
— If some newbie wants to work in international corporate communication, what would be your three main pieces of advice for them?
— Keep your mind open. It's important to free yourself of prejudgments and misconceptions about your work, your colleagues, and the countries you're going to manage or work in. I've learned during my work at Kaspersky that people, wherever they are from, are naturally good human beings. We all basically want the same things: to get our work done, live peacefully, do great, eat nice food, and so on. Our cultures, habits, and languages may be different, but it's great to see our sameness beyond the differences.
Read. Read. Read. Or listen to podcasts if that's your vibe. Basically, keep yourself informed. You really need to take in the news and the latest trends if you want to do great in international communications.
Be afraid, but do it anyway! International corporate communications is not for the faint-hearted. You're working with people from different backgrounds, ethnicities, and walks-of-life, plus you have to also be aware of the latest global or regional news and trends, and you cannot discount the possibility of a crisis situation. It can be really daunting in many ways, and you'll probably make some missteps along the way, but hey, do it anyway! Mistakes are always better than… missed takes.