Another month has quietly slipped away and you've found yourself wondering if you're all caught up on our articles from September. Not to worry, we've rounded up our top posts to keep you in the know.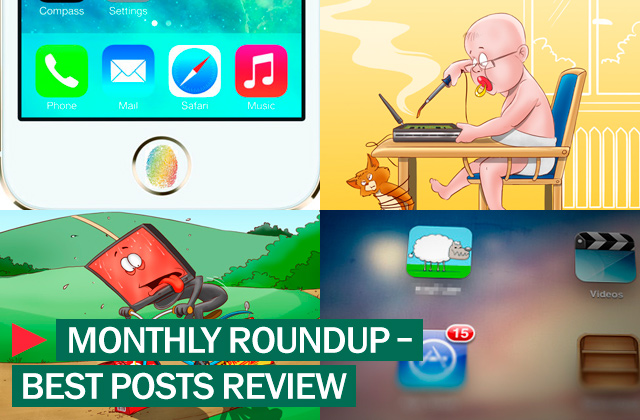 Apple's iOS 7 Has a Major Security Flaw
Did you download the latest operating system from Apple? If you were one of the millions who did, the new iOS 7 came with a major flaw. It came with a bug that allowed anyone to access your contact information and social media accounts without entering the security code that keeps your device locked. With new releases often times come bugs, so always be sure to download any software updates that are offered to you to keep your device secure.
Fraudulent Apps on Apple's App Store
Even though the Apple store is notorious for its strict control over the applications allowed within it, fraudulent apps have still emerged, preying on unsuspecting victims. You can usually spot one of these malicious offerings because it will try to catch your attention, touting features that don't exist natively on iOS. Always read reviews and check ratings before installing a new app, but if you do download a harmful program, you can always ask Apple for a refund.
Why Using Multiple Antivirus Programs is a Bad Idea
If you're serious about keeping your device safe, you may have considered running more than one anti-virus program on them to guarantee their protection. Did you know this could actually do more harm than good? If you're running two programs at once, both will attempt to block and remove one another from your system, they will fight over viruses and they'll drain your battery life. You're much better off sticking to one comprehensive antivirus suite to guarantee safety and to keep your system running smoothly.
Securely Configuring a Wireless Router
Your wireless router is the hub of your home network, and if not secured properly, could be vulnerable to attack. Taking measures, like buying a new router, password protecting it and setting up a protected guest network, are good first steps to enhance your security level. After taking these measures, you can even go a step further by accessing your router's administrative interface to make sure everything is locked down.
Samsung recently created a secure Android environment called Knox, with the goal of resolving the security problems IT teams are now up against with the new common practice of employees using personal devices on corporate networks. Knox is meant to protect you and your employer against data leakage that can occur when valuable information is transferred from secure networks to less secure networks, by providing security management features, like Customizable Secure Boot, TrustZone-based Integrity Measurement Architecture (TIMA), and Security Enhancements for Android. The most attractive feature is probably the Knox container feature, which keeps data and applications stored in a container, completely isolated from the rest of the operating system. Samsung may very well have created an incredibly useful tool for companies and their employees, but only time will tell.
Touch ID Fingerprint Scanner In iPhone 5S: Everything You Need To Know
Apple's new iPhone 5S has received a lot of buzz with the addition of its new biometric identification option, but is it really worth all the hype? A huge positive of having a touch ID fingerprint scanner is the fact that it makes it much harder for illegitimate users to access your data. However, this could become a hindrance if you're trying to allow a trusted third party to get into your device, or if you're wearing gloves.  Furthermore, soon after the release of the iPhone 5S attackers found a possible way past this security feature. So once again, we will have to wait and see if this feature becomes mainstream, or if it falls to the wayside.