If you're on Twitter, you know the Fail Whale: When Twitter's servers get overloaded (it happens surprisingly often) an image appears of a sleepy whale being hoisted out of the water in a net by several tiny birds. It's Twitter's cute way of apologizing for a significant service outage. But Twitter isn't the only online service that has an amusing image that uses a charming mascot to deliver bad news. Here are the rest of the cuddly inhabitants of the zoo of online failure: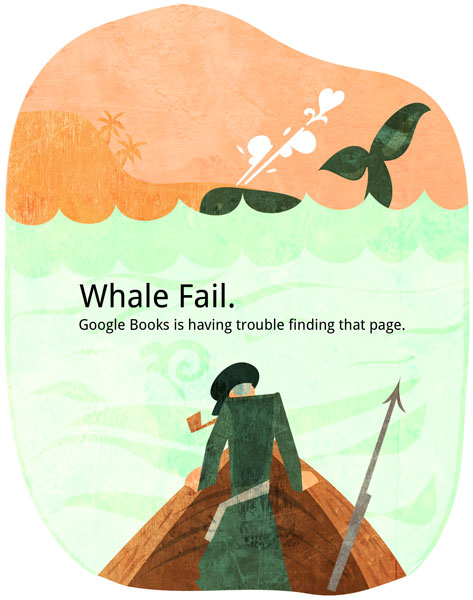 Google Books' Whale Fail: In what must be a surefire case of intellectual property infringement (disclosure: we're not lawyers), Google Books also employs a whale's image when they fail to deliver – albeit it a bit differently. The cartoon image of a disappointed 19th Century whaler hanging his head as a spouting whale disappears beyond a wave isn't quite as blissful as Twitter's Fail Whale.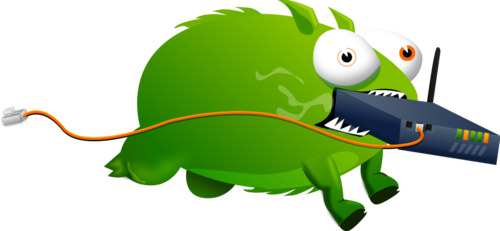 Tumblr's Tumbeasts: These adorable and weird green monsters are clearly up to no good, running amok with various computer components in their sharp-teethed mouths. But they come with a charming apology: "We may have forgotten to feed the wild Tumbeasts that roam our datacenter, which often results in unexpected downtime due to gnawing and/or mutiny. Animal control has been alerted." Almost makes you wish Tumblr went down more often.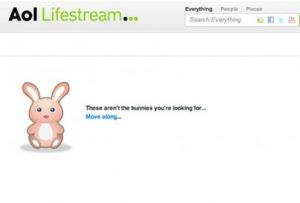 AOL Lifestream Fail Bunny: AOL has embraced the ever-popular idea of employing a cute messenger to deliver bad news for its social media aggregator, Lifestream. This pink bunny with little round eyes may be better than a standard 404 error message, but arguably not by much.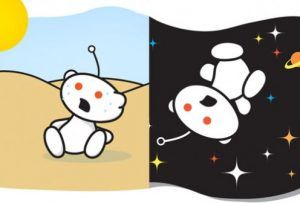 Reddit's Snoo: This (unsurprisingly cute) little Jetsons-esque alien gets himself into all kinds of predicaments whenever his site goes down – ejected into space, marooned in a desert – and wears the same adorably horrified expression through it all.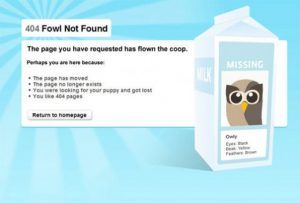 Hootsuite's Fail Owl: Users of the popular social media dashboard Hootsuite are familiar with the application's Owly mascot, and when Hootsuite can't find a page you're looking for a "404 Fowl Not Found" message pops up with the image of dear old Owly adorning the back of a milk carton.
What are some of your favorite error mascots/pages?