Product
Kaspersky Security for Internet Gateway
Secures your organization's infrastructure against web-based threats
The Product
Web-based cyberthreats are now almost as common as those that are email-borne – and no less dangerous. With everyone so reliant on the internet, this is a constant danger, against which specialized gateway protection should be deployed.
Kaspersky Security for Internet Gateway offers reliable protection against all forms of web-based threat including malware, ransomware, miners and phishing – while helping to reduce risk and boost productivity by controlling internet usage.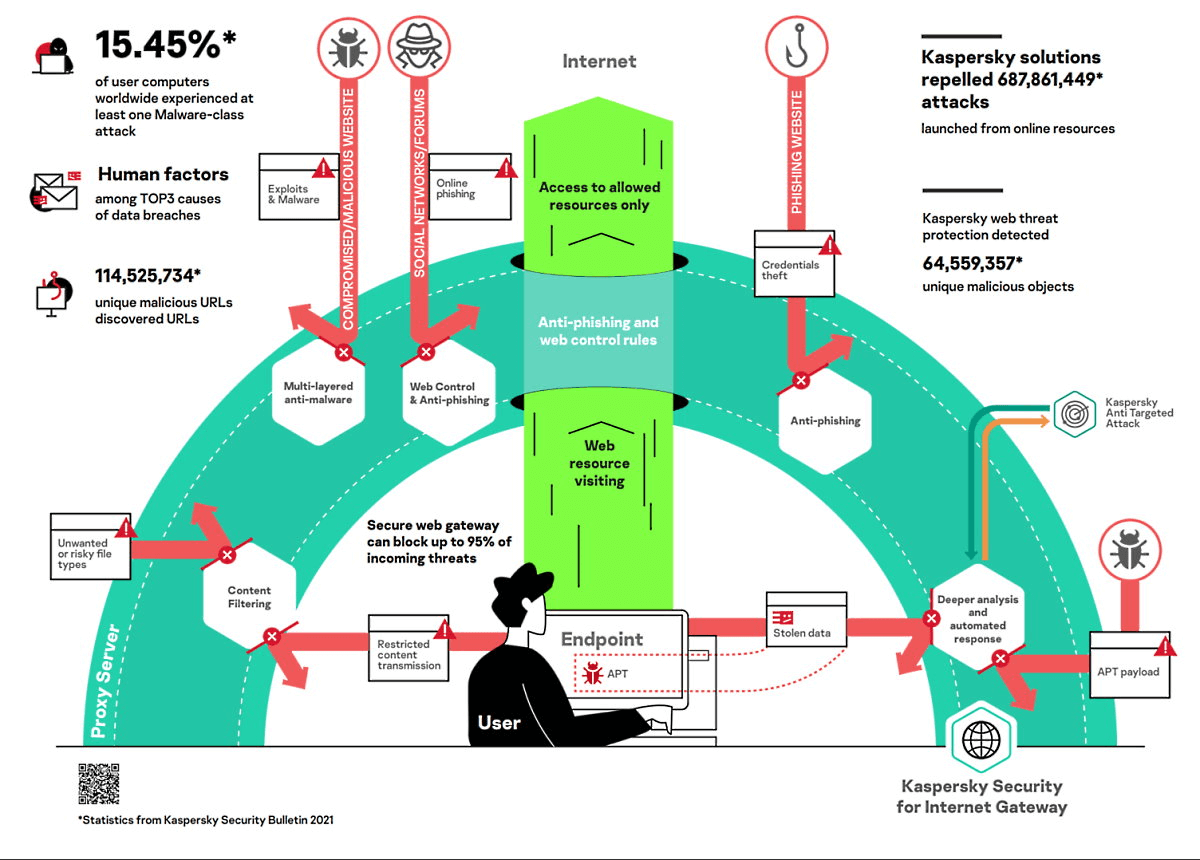 Multi-layered threat protection
The solution combines proactive machine-learning based detection and analysis with real-time global threat intelligence to block malware, ransomware, wipers and miners attempting to attack systems via web resources
Anti-phishing
Leveraging deep learning algorithms and reputational data from across the globe, the product's stack of anti-phishing technologies blocks online phishing sites, however genuine they may appear. 
System hardening
Kaspersky Security for Internet Gateway enables the restriction of access to certain websites and their categories – as well as traffic from particular applications –  reducing your security risk and user distraction from non-work-related  sites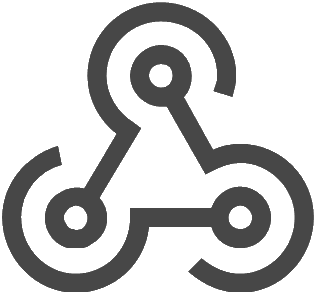 Secure Web Gateway (SWG) software appliance
Kaspersky Security for Internet Gateway is offered as a  standalone application or as an all-in-one, ready-to-use software appliance, for  quick, hassle-free deployment.
Clustered deployment
To cope with increasing traffic loads, clustered implementation is available:  just deploy extra traffic processing nodes.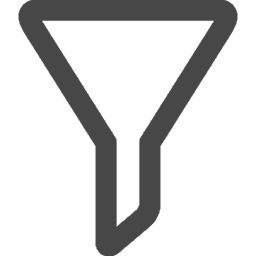 Content filtering
Blocking the  transmission of certain content types helps further reduce the risk of infection and maintain data security
Multi-tenancy
Organizations with multiple semi-independent subsidiaries or branch offices – as well as IT security service providers – will benefit from multi-tenancy with independent role-based access configuration.
Advanced threat detection and automatic response
2-way API-based integration with the Kaspersky Anti Targeted Attack detection powerhouse allows both the deeper analysis of web objects, and an automated response capable of disrupting the kill chain of a targeted attack.
Suitable For
This solution is particularly well suited to addressing the security requirements, concerns and constraints of these enterprise sectors.
In Use
Multi-vector protection against web-related threats

Kaspersky Security for Internet Gateway provides protection against a whole range of web-based attacks scenarios, including malware downloads, drive-by/watering-hole attacks using exploits, phishing websites mimicking legitimate resources and many more. It also reduces the risk of infection and data leaks by limiting access to selected web resources and categories, as well as restricting the transmission of certain file types.

Multi-tenancy for complex infrastructure protection and the provision of managed services

The multi-tenancy feature enables the management of multiple independent infrastructures, each with its own rule-sets and reporting.
This makes Kaspersky Security for Internet Gateway ideal for complex environments incorporating multiple branch offices, independent projects/subsidiaries etc. It's also invaluable for MSP/MSSPs wishing to offer a managed web protection service to customers.

Advanced Threat Protection with Automated Remediation

Kaspersky Web Traffic Security, the main application inside Kaspersky Internet Gateway Security (also contained in other Kaspersky products) includes 2-way API-based integration with the Kaspersky Anti Targeted Attack (KATA) Platform, enriching threat detection context with web gateway-level events and ensuring an automated response, based on deeper analysis by KATA's advanced mechanisms. Further attempts at payload transmission can be prevented, and the attackers' command & control systems disrupted and disabled..
24/7
Premium Support
Professional help is available whenever you need it. Operating in more than 200 countries, from 34 offices worldwide, we have you covered 24/7/365. Take advantage of our Premium support packages, or call on our Professional Services to ensure that you derive maximum benefit and ROI from your Kaspersky security installation.
White Papers
Learn more, with thought leadership from our globally recognized cybersecurity experts
Threats
As the adoption of digital technologies such as public cloud services, IoT and artificial intelligence continues apace, together with increasing inter-connectivity - new security, compliance and data protection challenges have arisen.
The World Wide Web is home to all kinds of malicious agents including regular and bodiless malware, ransomware and miners

Phishing websites, mimicking legitimate resources, are intent on stealing peoples' and businesses' credentials and other sensitive information

Uncontrolled access to internet resources brings with it  increased risks of infection and data leaks

Web-based scenarios are extensively utilized by sophisticated attackers against their targets

Ungoverned data flow between corporate endpoints and the World Wide Web brings with it compliance-related considerations.

Responding to detected targeted attacks in time to prevent damage can be problematic without proper automation
Recognition
Awards
VBWeb Comparative Review - Autumn 2018: VBWeb verified
Kaspersky is named as a 2020 Gartner Peer Insights Customer's Choice for Secure Web Gateways.
Start the conversation. Talk to one of our experts about how Kaspersky Security for Internet Gateway could complement your corporate security strategy.