Product
Kaspersky Sandbox
Advanced threat protection without expensive security experts and tools
Overview
Today's businesses need to combat the growing number and complexity of modern threats that bypass existing antivirus and EPP-class solutions, such as unknown malware, new viruses and ransomware, zero-day exploits and others. At the same time, there is a global shortage of skilled cybersecurity professionals, which can make it tough and expensive to hire them.
Kaspersky Sandbox is a part of Kaspersky Optimum Security, and is built using our established best practices to combat complex threats and APT-level attacks. Together with EPP and EDR solutions, Kaspersky Sandbox provides fully automated advanced detection by analyzing threats in an isolated environment.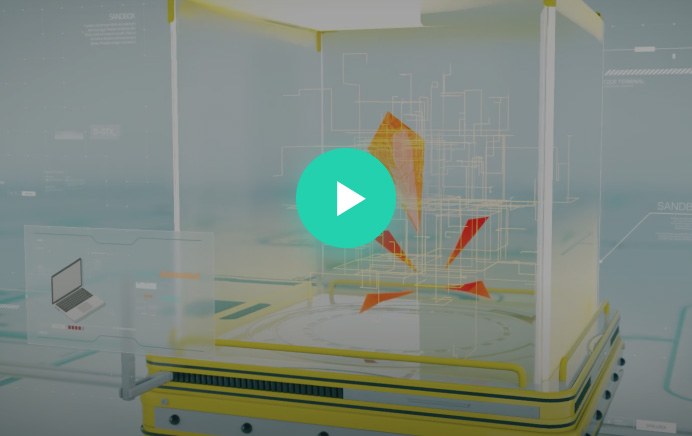 Detection
Suspicious objects are put in an isolated environment, where indepth analysis is performed to rapidly detect and block new, unknown and evasive cyberthreats automatically

Manageability
Kaspersky Sandbox is simple to install and operate, and seamlessly integrates with the infrastructure of companies even without fully fledged IT security teams

Scalability
With the basic configuration supporting up to one thousand protected endpoints, the solution scales easily, providing continuous protection for large infrastructures

Integration
The enhanced detection capabilities of Kaspersky Sandbox integrate seamlessly with Kaspersky EDR Optimum and Kaspersky Endpoint Security for Business to create a multi-layered endpoint security solution
The Use
Improve your defenses against unknown threats

Endpoints remain the main target of cybercriminals.
The cost of bypassing existing endpoint protection remains relatively low.
Bypassing sandbox technology is far more difficult and expensive.
Working with our EPP and EDR tools, Kaspersky Sandbox provides a vital security layer to keep unknown cyberthreats off your networks.

Don't let the shortage of IT security specialists hold you back

Companies usually need a well-developed IT security department to use advanced security solutions. And the main reason that so many organizations don't acquire this class of solutions is the global shortage of IT security experts, and the high cost of hiring them.
Kaspersky Sandbox and Kaspersky Optimum Security is the ideal solution for organizations that need protection against advanced attacks, but are still holding out on investing in a fully-fledged IT security team.

Cost-effective solution for distributed networks

Large companies typically have complex and distributed infrastructures
Medium-sized branches and small regional offices are not always able to use complex solutions due to the lack of resources and expertise.
Kaspersky Sandbox allows large enterprises to optimize costs for effective protection of remote offices and alleviate the manual workload on their existing highly valued information security analysts.
24/7
Premium Support
Professional help is available whenever you need it. Operating in more than 200 countries, from 34 offices worldwide, we have you covered 24/7/365. Take advantage of our Premium support packages, or call on our Professional Services to ensure that you derive maximum benefit from your Kaspersky lab security installation.
White Papers
Learn more, with thought leadership from our globally recognized cybersecurity experts
The Threats
Attacks are becoming increasingly sophisticated. And as complex tools developed by nation-state actors become available to the broader market, the cost of mounting a targeted attack decreases. On the flip side, the cost of hiring suitably qualified IT security specialists is rising. There is a pressing need for cost-effective protection that overcomes:
Traditional technologies that can't cope with complex threats

A growing global shortage of information security analysts

Lack of budgets for complex anti-APT and EDR-class solutions

An overwhelming number of security events to be analysed every day
Kaspersky Optimum Security
Build on from Kaspersky Sandbox by adding simple EDR technology for enhanced detection, investigation and rapid response, and Security Awareness training – or opt for managed protection with Kaspersky Optimum Security.
Let's start the conversation! To talk to one of our experts about how True Cybersecurity could inform your corporate security strategy, please get in touch.