Why You Need Backup Files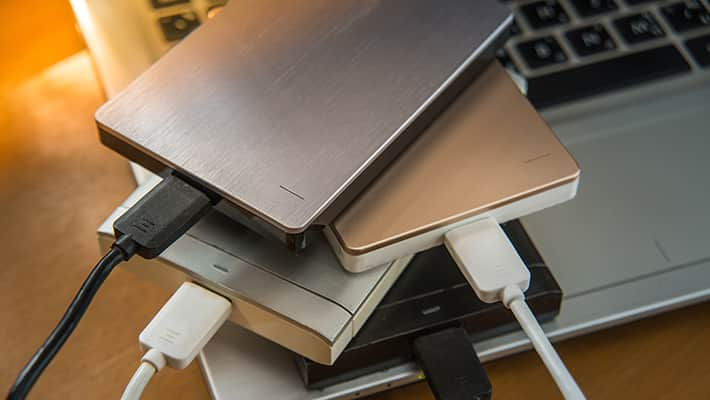 A file backup occurs when you store copies of your critical system and personal files on a hard drive or auxiliary storage device, such as an external backup or flash drive. Creating backups is a critical step in computer maintenance to protect your data in the event of system failure or file corruption.
Who Should Backup Files?
All individuals and organizations risk permanently losing important data if they don't backup their files. For individuals, the loss of personal financial records, important documents, and irreplaceable photographs leads to a great deal of stress and disappointment.
Organizations that don't backup their files — particularly their financial records — risk damaging their businesses, perhaps to the point of losing them.
Many companies rely on computers to run their entire operations: finance, human resources, payroll, sales, marketing, and more. In some cases, companies that can't access their files due to accidental or malicious causes are unable to continue operating.
In the spring of 2017, the National Health Services (NHS) of the United Kingdom had their operations compromised by malware that made files inaccessible. Sony Pictures experienced a similar lockdown that negatively impacted their business in 2014.
What Are the Greatest Risks to Files?
The three most significant risks to computer files are:
User or administrator negligence
Computer malfunction or theft
Computer hacking
Sometimes users — and even IT administrators — accidentally press the delete button on a file or directory. That sinking feeling you get when you realize your mistake can only be assuaged by recovering the files.
The best protection against this sort of error is backup software that makes incremental copies of open files. Additionally, at the end of the workday, creating an automatic "mirror" of the computer's storage provides additional insurance that you can recover data quickly when necessary.
If you've ever had a computer die on you unexpectedly, you understand the frustration that goes along with it. Creating and storing frequent backups on physically remote devices provides the peace of mind you need when trusting machines with your valuable information. – This approach can also be a lifesaver if someone steals your computer or device, as you can replace the device and download the files from the external storage to the new device.
Cybercriminals have become increasingly bold when it comes to infecting computers with a type of malicious software called ransomware. Ransomware blocks end-users from accessing files and software applications on their computers. Hackers demand individuals or organizations pay a ransom to restore access to their files.
The previously mentioned NHS attack — as well as thousands of other attacks around the world — was a ransomware attack. The incident forced clinics to shut down and halted surgeries throughout the UK.
To make matters worse, in many instances, those who pay the ransom still don't regain control of their machines. The hackers must provide users with encrypted keys to unlock the files, and they don't always comply.
Some ransomware deletes all the data on a computer even after the ransom is paid. Computer backups stored in secondary locations ensure ransomware attacks do not disrupt the work of organizations and individuals for long.
How Do I Create a Backup?
The most common way to backup computer files is to use the software that comes with the operating system on personal computers. Apple iOS and Microsoft Windows provide built-in utilities that offer backup and restore capabilities for computers.
You can either back up files on separate partitions on local drives or back up to external storage devices. The first method won't protect you if your computer completely crashes and you can't access your internal drives. Backing up to a remote device is the most desirable option for full-scale protection.
Software products like Kaspersky Total Security provide you with the tools and support you need to create encrypted backups. Additionally, installing and updating a quality antivirus program is the first step in protecting your devices from potentially costly malware and ransomware attacks.
Tip:Kaspersky Internet Security guards your internet access against intrusion. And consider frequent updates of user passwords of at least eight characters of various types (upper/lower case, numbers, special characters).
Backup services like iDrive, SpiderOakONE, and SOS Online Backup copy files to the cloud supported by specialized software. Other generic cloud solutions include those by Dropbox, Google Drive, and Apple Cloud.
Although hackers did manage to steal customer account information from Dropbox in 2016, the service now provides strengthened cybersecurity defenses to protect vital user data.
If your computer experiences technical difficulties or is maliciously targeted, a file backup could be the most important file you ever created. You may not think of it as a first line of defense, but it could be the step that saves your peace of mind or your business if the worst should happen.
Kaspersky Internet Security received two AV-TEST awards for the best performance & protection for an internet security product in 2021. In all tests Kaspersky Internet Security showed outstanding performance and protection against cyberthreats.
Related articles:
Related products:
Why You Need Backup Files
Kaspersky
Creating backups is a critical step in computer maintenance to protect your data in the event of system failure or file corruption. Learn about the greatest risks to files and how to create a backup.