How to Ensure Your Kids Are Safe on Their Tablet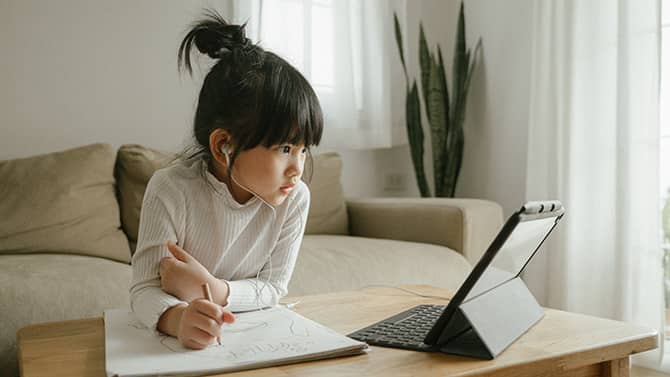 Having lots of gadgets and technology around the home makes it easier for your family to stay connected, but it also presents its own problems. Between online classes, virtual playdates, multiplayer games, and online shows, kids are spending more and more time staring at screens than ever before. Increased screen time is part of the reality of our modern world, especially in the wake of the COVID-19 lockdowns.
The American Academy of Pediatrics has even acknowledged new guidelines for the suggested amount of time kids should be spending online. Previously, they recommended limiting screen time to one to two hours per day for young kids and keeping kids under 2 away from screens completely. More recently, their stance has changed to be more accepting of kids' widespread screen time.
On top of the increased need, kids have to spend time online for school, activities, etc., parents are also busier than ever and don't always have time to monitor them closely. Kids are often left on their own while using mobile phones and tablets, and they risk stumbling onto unacceptable content or websites without supervision. Thus, parents need to make sure that their kids use tablets responsibly, in order to keep them safe while online.
General Tips for a Kid-Safe Tablet
It's important to be open and involved with your children's usage of technology. Every child is different and will have different needs surrounding their tablet use. You always want to make sure you understand what they are doing on their tablets and when just like in other areas of their life. But to help you safeguard their tablet use and keep your children safe, here is a helpful guide to ensuring that your tablets are as kid-safe as they can be.
Start with a Clean Slate
If you're letting kids use one of your old devices, you probably want to clean everything off it first. Make sure you have all your data backed up, in the cloud or on another hard drive. If you have an iPhone or Apple tablet, go to Settings > General > Reset and tap Erase All Content and Settings. If you have an Android phone, be sure to encrypt your phone's data first. Then go to Settings > System > Reset Options and choose to Erase All Data (Factory Reset).
No matter which device you're using, you should wipe it clean so that you can set your kids up with a user profile. Apple only allows one user per device, and Google phones can get confusing when trying to set up two separate user profiles on one tablet.
Educate Your Kids
Advise your child not to click on suspicious links. Game streaming chat features can contain malicious links, which could download malware onto your device and steal log-in credentials and online assets.
Similarly, teach your child about phishing These are emails designed to look like they come from a legitimate source but are really angling for confidential information — which cybercriminals could use to take over your account or steal payment details.
Set Up Parental Controls
Parental controls on smartphones and tablets let you automatically limit the amount of time a user can spend on the device. They also help enable other controls and ways to monitor screen time. Apps like Apple Screen Time and Google Family Link are high-quality parental control solutions. Tools like this allow you to review apps before they are downloaded. They also block inappropriate content such as pornography, violence, and explicit language. You can set limits on how many hours a day your child can use a certain app, lock the phone or tablet so they can't use it after or during certain hours, and more.
Keep in mind that parental controls are not a fail-safe option. First, there are ways for kids to get around the restrictions if they know how to. Second, the content filters don't always catch everything. When you first download an app, the controls are usually in the least restrictive setting. You definitely want to adjust them and check them often. Setting up parental controls can also be a time-consuming task for busy parents. But it is worth it to invest the time initially so you can have a little more peace of mind while your kids are using their tablets.
Add Helpful Accessories
In addition to monitoring the content that kids see, parents should also keep hardware issues in mind. A good pair of headphones can help protect your child's ears as they tune in to an online class, play games, or listen to music. Many headphones don't limit volume to the recommended safety levels, so make sure that you read the fine print and find a pair that does.
Tablets are fragile, and an accident is often just waiting to happen. The tablet can fall off the table or your kids might accidentally spill a drink over it. It's a good idea to get tempered glass screen protectors for phones and tablets to make sure that the screens don't get smashed. Screen protectors also better protect the screen against scratches and dirt. Some cases also have convenient handles that make tablets easier to carry as well.
Download Apps
After you've wiped your device clean, you can preload some fun and educational apps that your child can use. You can find educational apps and learning games for kids from ages 2 to 12. These apps encourage kids to learn math, science, coding, and more. There are also plenty of online video lessons for K-12 students, including both learning apps and other remote-learning resources. You can even find exercise videos for kids to help them burn off some of that extra energy!
Consider using a parental control app like Kaspersky Safe Kids — this allows you to block adult content, control access to inappropriate games and apps, and manage screen time by device.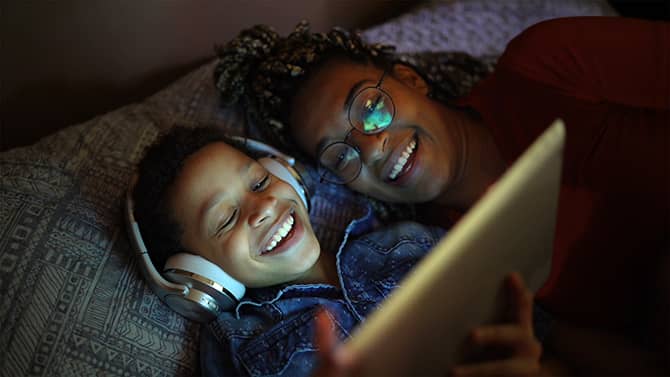 Different Types of Tablets and How to Keep Them Safe
Now, let's take a closer look at the different types of tablets and what is involved in making sure they are as safe as can be for your kids.
Making a Kid-Safe Tablet: Android
Spending too much time on tablets or accessing inappropriate content can be damaging for kids. Luckily, Android tablets make it easy to implement parental controls and otherwise protect your kids from unsafe behavior while online.
Put a Lock on Your Tablet
Lock your Android device with a PIN or password. After you activate the lock screen, you are asked to enter the PIN any time you activate the device or try to make major changes, such as altering important Android Settings. You can also lock specific Android apps.
Create a New User on Your Device
Set up an Android guest account to allow or deny access to certain apps on the device. By default, Android will block access to almost everything, including Chrome, so you have to manually select which games and apps you would like your kids to have access to.
In the Google Play Movies and TV app, you can restrict access to content based on parental rating. If you have kids of varying ages, you can set up specific profiles for each of them based on their ages.
Screen Pinning
On an Android, you can lock your kids into a single app if they are temporarily using your Android device. From Settings, go to Security > Advanced > and Screen Pinning to turn the feature on with PIN protection. Bring up the list of recent apps and tap an app's icon and Pin to keep the focus on that app only until you enter your PIN code again.
Set Up Parental Control on Android Tablets
Parental controls are important because they help parents restrict usage of the device in a proper time setting and also take care of any misguidance by online sources. They ensure your kids are safer by restricting access to harmful apps, links, or games that can affect their study, performance, and growth.
To set up parental controls, go to Google Play Settings > Family > Parental Controls > On, then set the desired restrictions. You can restrict downloads from the Google Play Store so that kids can't purchase any content without your permission. This extends to movies, music, books, and apps.
Add Child-Proofing Apps
There are a number of Apps you can get from the Google Play Store that can help you place even further restrictions on your child's Android.
Making a Kid-Safe Tablet: Apple iPad
iPad and iPhone apps give your child access to a world of entertainment and education when used correctly. Of course, they also have their risks. Fortunately, Apple has built some must-have parental controls into iOS in recent years, which help parents gain more control over the way that kids use technology. These services protect a child's privacy, keep them safe from inappropriate content, and make it difficult for kids to make unauthorized purchases in apps. Here's how you can kid-proof your iPad.
Turn On iPad Restrictions
The first step in making a kid-safe tablet is to turn on the restrictions for your iPad. This allows them to use the device in what amounts to a "kid's mode." To do so, just tap on your Settings option on the iPad and go to a tab named "Screen Time." Choose the option to Use Screen Time Passcode. Then enter a unique code that will protect the restrictions you implement on your iPad and prevent your child from making changes, either accidentally or on purpose. Once you enter your passcode, you can start turning on restrictions one at a time.
Some of the restriction options include:
Disable Facetime, Camera, and Safari: This restriction prevents your child from gaining browser access without your guidance. It also means that your kids can't accidentally use Facetime while they are on the iPad.
Disable iTunes store, installing/deleting apps, and in-app purchases: Disabling this option helps you ensure that your kids aren't purchasing anything from the app store, on purpose or accidentally. It also makes sure your kids can't download anything without your permission.
Siri, CarPlay, and AirDrop: Disabling these means that your child can't activate any of them with just their voice. However, kids can still activate Siri by pressing down the home button on your tablet, so make sure you still keep an eye on them.
Disable access to accounts: Disable access to accounts in the Allow Changes subsection of your settings. This will prevent your child from adding, modifying, or removing contacts, mail, or calendar accounts.
Disable multiplayer games: In-Game Center, you can disable multiplayer games, adding friends, and more, in order to keep your child from initiating multiplayer games or interacting with strangers in Game Center.
Content and Privacy Restrictions
While you're still in the Screen Time section of the iPad account settings, you can take care of the content and privacy restriction options too. Turn the slider on at the top of the page by tapping on it. This allows you to determine which privacy levels you put in place for your child. The Privacy section on the Apple iOS main menu lets you set Allow or Don't Allow for pretty much everything on your account.
You can choose to turn the microphone off, get rid of speech recognition, and turn off Bluetooth sharing. It's easy to set up kids mode on an iPad. You get to decide which services to you want to allow and disallow, but it's particularly important to make sure that you don't allow in-app purchases, deleting apps, and installing apps. You can also remove Location Services if you don't want to put your child at risk of being located.
Turn Off Internet Access
If your child is younger, you might simply want to disable the App Store and internet access altogether. That way, they can only use the content that you've already deemed appropriate for them. To disable the Safari Web Browser, head into Screen Time settings on your iPad, and click on Content and Privacy Restrictions > Content Restrictions > Web Content. Here you can turn Safari off.
Keep in mind, however, that permitted apps have their own browser interfaces and can still access the internet, so your child can use games and apps already installed. If you want to block web access completely, you'll need to disable Wi-Fi by heading into your settings and toggling the Wi-Fi option into Off mode. You can always turn it back on again later.
Apply Web Content Restrictions
Depending on how old your children are, you may want to give them the opportunity to explore different kinds of content and not turn internet access off altogether. This is where Apple's web content restrictions come in handy. Go to the Web Content section of your device and adapt your kid mode to suit the needs of your child.
In the Apps category of the Content and Privacy restrictions page, you can restrict content by age. For example, you can choose the 4+ group, 9+ group, 12+ group, or 17+ group. You can also decide to limit access to adult websites, prevent explicit language, and more.
Disable Notifications/DND
Another must-do for parents is to ensure that your kids don't get any incoming material while they are using the tablet. If you regularly get news sent to your notifications list, or you get updates from apps, your child could accidentally tap and open those notifications. Disabling your notifications and "Today View" will prevent accidentally revealing content from popping up.
Just head to your Notifications Center and go to the Settings page. Disable whatever switches you deem appropriate. You can also go through each app and make sure that notifications from various apps still show up while others are disabled. Do Not Disturb Mode, or DND, also prevents notifications from coming in during certain times.
Recommended Products for Maintaining a Kid-Safe Tablet
Kaspersky can protect you from all major threats while you or your kids are accessing the internet. Use a trusted cybersecurity solution on all your children's devices.
Kaspersky Safe Kids is designed to help you protect your kids online. It includes an app on your child's device plus an app on your phone that lets you see reports and customize settings. There are parental controls built into the software, and it even allows you to manage their screen time by device.
Other Kaspersky products include:
Further Reading
How to Ensure Your Kids Are Safe on Their Tablet
Kaspersky
Kids are using tablets more than ever. This guide shows you how to ensure your kids are safe and protected while using their tablets and accessing the web.