Gone are the days when hackers wrote viruses for their own fun and entertainment. Today's modern malefactors have sordid motives, like making profits through ransoms and fraud. Often times, the most popular target is information from card payment systems. Now, hackers don't even need to infect victims' computers with viruses of any kind in order to achieve their goals. But Kaspersky Lab monitors online fraudsters and protects users from their harmful actions with the help of a special tool.
The Safe Money module was created in 2012 and has since become a more specialized successor of the Safe Run for Websites module. In the past, we have discussed the purpose of this feature in the pages of Kaspersky Daily.
Therefore, in this article, we will not talk about how the Safe Money component works, but rather we will tell you when and why the component may not work, and how to solve these problems if they arise.
If you are trying to log in and there aren't any notifications from Safe Money, it does not mean that the web page is dangerous. It only means that the website is not present in the current database.
It's likely that you have at least one account that allows for various transactions involving your funds. Say, for example, your online banking account. If you have a Kaspersky Lab product installed, the page will be opened in a protected mode by default, as the majority of popular banks, payment systems and online shopping websites are included in our database. If you attempt to log in and there aren't any notifications from Safe Money, or a green frame around the page, then this means that you currently have no defense against fraudsters. In this case, it is suggested that you close the page before entering any personal data and return to it only after you add that web address to Safe Money manually. You can read more about how to do this in our Knowledge Base. This situation does not necessarily mean that the web page you tried to log into was dangerous; it only means that the payment system, bank, or website is not present in the current database.
What if the page still opens in a regular browser window after you have added the bank or payment system to Safe Money? If this occurs, it is likely that you have added the domain of the bank (for example, https://yourbank.com), rather than your personal account. Your personal account has a different address (for example, https://yourprofile.yourbank.com). Configuring the component this way is much too complicated. Instead, there is an easier way: you can add a mask (instead of the full address of the website) by using an asterisk symbol ('*'), which stands for any sequence of symbols in many programming languages: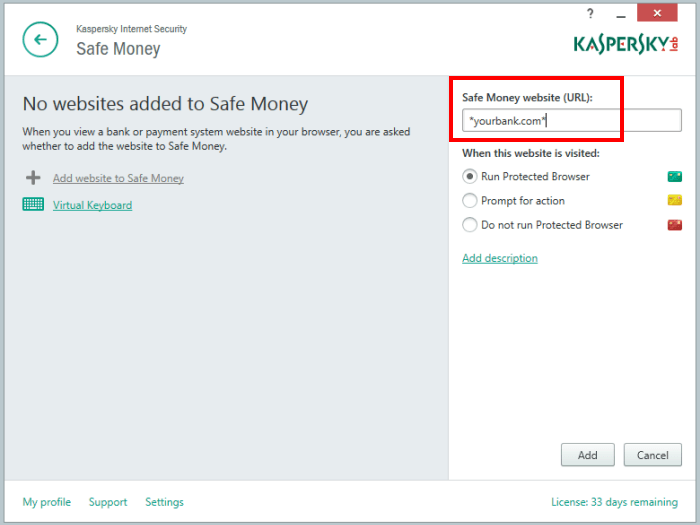 Add your banking site to Safe Money using this method, and your personal account page will always open in a protected window regardless of its exact address. To save time, you can quickly open the page with a single click from within the Safe Money window, instead of opening the browser and typing in the address. If you look at the lower part of the window, you may notice that the application recommends opening websites in this way: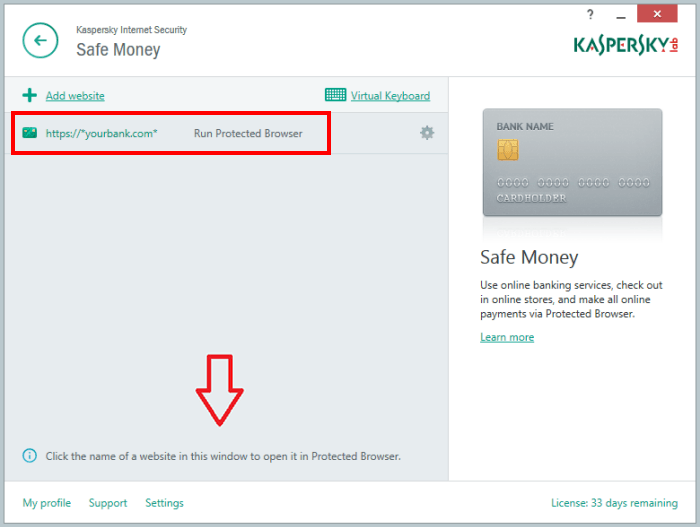 Users often make a particular mistake when using Safe Money. If the page does not open instantly, users will click the link again and again. It is necessary to understand that multiple security checks performed by this component may be causing the slight delay that you experience. Simply let the application take its time, as it is busy providing solid protection to your transactions. If you continue to click, your desktop will be covered with many similar pages or error messages.
Additionally, note that you are supposed to add the address of the website, not the name of the bank or payment system. It is an ordinary text field, not a smart search engine.

The majority of popular banks, payment systems and online shopping websites are included in the Kaspersky Internet Security database.
Safe Money is integrated with browsers via plug-ins. If you have the latest browser version not supported by our extensions yet, Safe Money may not work. It is recommended that you use Internet Explorer for financial transactions and online shopping as it is seldom updated in comparison to other browsers. If you are a Google Chrome user, don't worry about the absence of a Safe Money extension. For this browser, Safe Money has been incorporated, along with other extensions, into a single Kaspersky Protection Plugin, which I have written about before.
Note that the plug-in must be enabled. The application prompts you to do so when you first open the browser after the product installation. By default, the check box is not selected and users often skip it.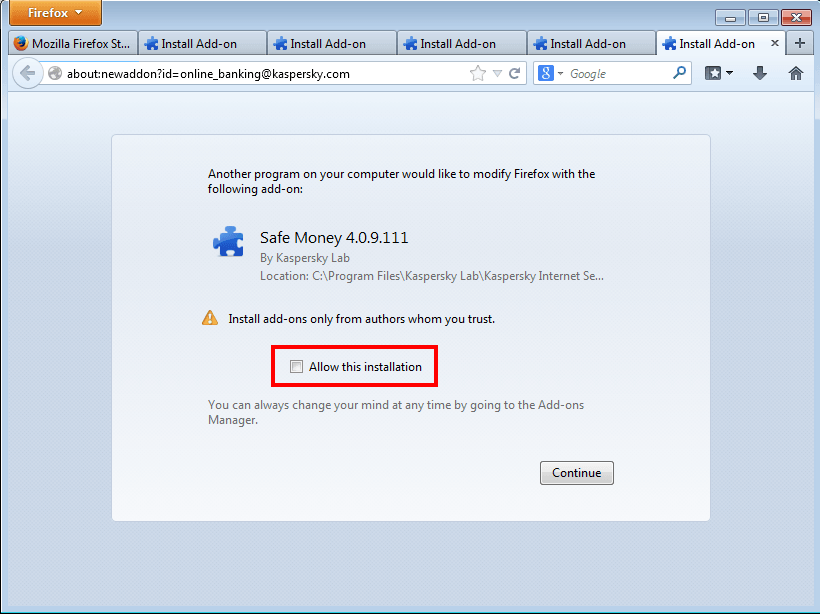 If you have missed the check box and the plug-in was not installed, you can enable it at any time in your browser settings. You can find detailed information on how to do so in this article.
Keep in mind, fraudsters often use several tricks at once: links to fake banking webpages are very common in phishing e-mails. To learn how to identify the threat and protect yourself from it, read the article about e-mail fraud recently posted on Securelist.com. Remember that it is not an antivirus alone that protects you from fraud, but your own knowledge and caution as well. Guard your information well and surf the web safely!
If your bank or payment system is not present in the Kaspersky database, you can set Safe Money manually.

Tweet