Social networks, online news outlets, media service providers, online shops — all of them offer high quality content, compared to the Internet of the past. To get to this quality, a large investment is required. Like all investments, there is an expected return. After all there is no such thing as a free lunch. With all of the free content nowadays, one would have to ask — how is there a return on said investments?
The answer is quite simple: whether we like it or not, we pay for this content with our private information. This information is consumed by sophisticated advertising systems, capable of tracking web users, understanding their tastes and interests.
How far does this web tracking go?
How widespread is the use of tracking systems in the websites? Well, 100% of the top 1000 sites most visited by the users participating in the Kaspersky Seсurity Network use at least one tracking service. On the majority of them you can find way more trackers, dozens and sometimes hundreds!
For example, let's take a look at TMZ.com. According to Alexa ranking, the site is the 677th most visited site in the world. The Kaspersky anti-tracking tool Private Browsing shows nearly 700 blocked resources on the tmz.com domain, as you can see in the following screenshot taken on the 11th March 2016.

How's that even possible?
Thanks to Lightbeam, free browser extension, we can show you all of the third party connections made by tmz.com. At the center of the diagram below is the tmz.com domain and dozens of tentacles represent the connections to third party domains established instantly when you visit tmz.com.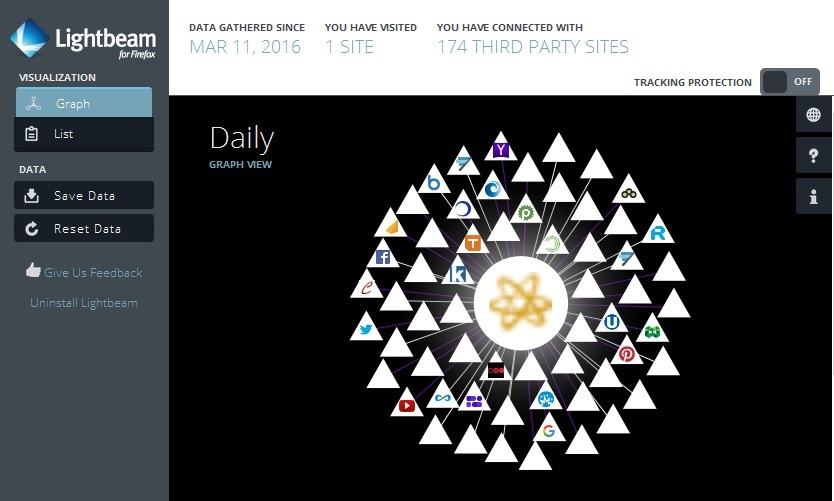 To put it simply, when you are visiting tmz.com you believe you are connecting just to its server. In reality you are connecting to lots of external servers somewhere in the world. Of course, not all of those connections are a threat to your privacy. But one way or another, a visit to this site could have left you with almost 700 of tracking objects, and Kaspersky can efficiently block all of those trackers.
What are these trackers?
One part of web trackers is behavioral tracking applied to the advertising. It corresponds to 43% of the companies detected by Kaspersky which use some tracking system aimed at targeted advertising. This part falls into our Ad Agencies category.
It is not listed in the top 10, but a special mention goes to the Facebook's service Facebook Custom Audiences, which is number 15 in the top Ad Agencies chart. This is the proof that social networks are more than just massive chat rooms. The main business of social networks is to track users for marketing purposes, a business that, according to eMarketer, generated more than $25 billion in 2015.
The remaining 57% is composed of Web Beacons and Web Analytics. Our Web Analytics category gathers all the services which collect data for statistical purposes mainly, with no intent of tracking the user univocally and/or with the purpose of target content, say advertising. Few examples could be web counters, A/B testing services, referral metrics, app measurement, heat maps, geolocation, user timings and so on.
The Web Beacons category is composed of those services used to track the users univocally, make cross-device tracking, cross-domain tracking, tracking pixels, beacons and any other creative tracking methods.
Kaspersky Lab's anti-tracking
Perhaps one of the best ways to protect your privacy is our anti-tracking feature called Private Browsing. How good is it? Well, we compared our solution with one of the leading products in this segment — Ghostery — and we can give you some numbers. The chart below compares the total number of the tracking companies blocked by Ghostery and Kaspersky. These results were obtained on 4th May 2016, and we can assure you that numbers grow every day in favor of Kaspersky Lab, thanks to our experts' efforts.
How did we get these results? The Ghostery data can be viewed in the Options of the browser extension itself; for the Kaspersky data, you can go in the settings of Kaspersky Internet Security or Kaspersky Total Security and go into Protection –> Private Browsing –> Categories and exclusions. Once there, you can click on each category and see the total number of the trackers in our database in real time.
You can find the Private Browsing feature in our Kaspersky Internet Security and Kaspersky Total Security products. They are offered with a 30-day free trial and we believe that in 30 days you'll clearly feel the difference between having an anti-tracking utility on your PC and not having.