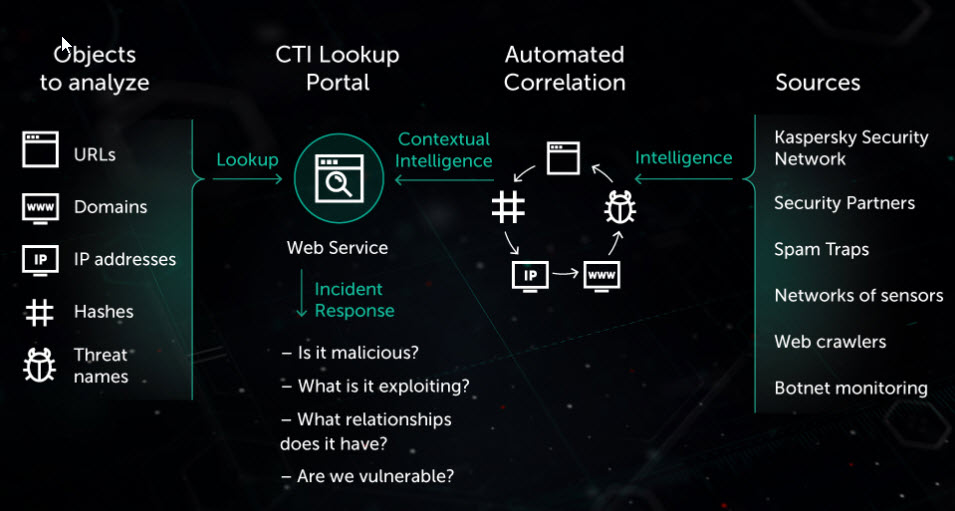 Businesses are becoming increasingly concerned about cyberattacks. With the growing number of data breaches making the news, it's not surprising. However, many business leaders are not sure where to start with protecting their organizations. Before you can protect your business and its digital assets, you have to have basic understanding of some core terms when it comes to cybersecurity.
Let's look into one of the key aspects of cyber security – threat intelligence. Keep reading for more information on what threat intelligence is and why it's important for your business.
Defining Threat Intelligence
Threat intelligence can identify and analyze cyber threats aimed at your business. The keyword is "analyze." Threat intelligence is about sifting through piles of data. It's examining it contextually to spot real problems, and deploying solutions specific to the problem found.
The definition of threat intelligence is often simplified or confused with other cybersecurity terms. Most commonly, people confuse "threat data" with "threat intelligence." Threat data is a list of possible threats. Think of it like your Facebook feed, it's a running list of possible problems. That's threat data.
Your Facebook posts don't mean anything until you read them and combine that knowledge with previous posts from friends, right?
That's threat intelligence. It's when IT specialists or sophisticated tools read threats and analyze them. Then apply historical knowledge to know if a threat is real, and if it is, what to do about it.
Why Threat Intelligence Is So Important
Threat intelligence is a crucial piece of any cybersecurity ecosystem. A cyberthreat intelligence program, sometimes called CTI, can:
Prevent data loss

With a well-structured CTI program in place, your company can spot cyberthreats and keep data breaches from releasing sensitive information.
Provide direction on safety measures

By identifying and analyzing threats, CTI spots patterns used by hackers and helps businesses put security measures in place to safeguard against future attacks.
Inform others

Hackers get smarter by the day. To keep up, cybersecurity experts share the tactics they've seen with the IT community to create a collective knowledge base to fight cybercrimes.
The State of Threat Intelligence
Many businesses already rely on CTI, which is great news. Research shows just 5.9 % of businesses don't have a CTI; however, a lot of businesses feel their system is a bit lacking. However 40.5% of businesses say their CTI program is "maturing."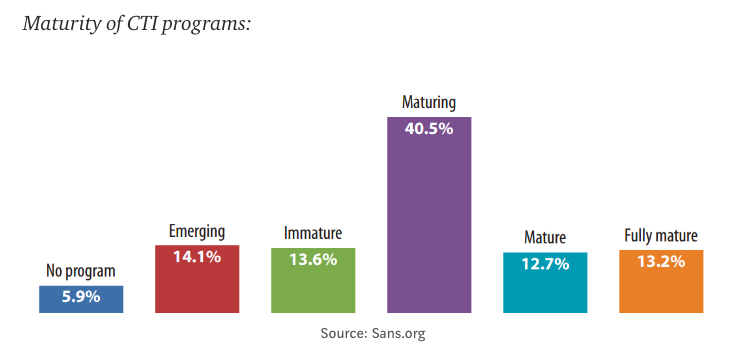 To succeed, a business has to rely on a cybersecurity company that has all of the necessary tools to help – not just some.
What to Look for in a Threat Intelligence Program
Managing threats requires a 360-degree view of your assets. You need a program that monitors activity, spots problems and provides the kind of data you need to make informed decisions to protect your company.
Here's what to look for in a CTI program:
Tailored threat management

You want a company that accesses your system, spots weaknesses, suggests safeguards and monitors it 24/7. A lot of cybersecurity systems claim to do this, but you should look for one willing to tailor a problem to your needs. Cybersecurity isn't a one-size-fits-all solution, so don't settle for a company selling you one.
Threat data feeds

You need an up-to-the-minute feed of websites put on a denylist and malicious actors to keep an eye on potential problems.
Access to investigations

You need a company that gives you access to its most recent investigations that exposes how hackers get in, what they want and how they got it. Armed with the information, businesses can make more informed decisions.
Real solutions

A CTI program should help your company identify attacks and solve the problem. Period. The program has to be comprehensive. You don't want a program that can identify potential problems, but not offer solutions, for example.
Threat intelligence is quickly becoming a must-have for businesses of every size. To protect your company, reach out to a company that can help you uncover issues and provide countermeasures to any threat.
Request a demo access to the Kaspersky Lab Threat Intelligence portal and start exploring all the benefits it can provide to your organization.
Related articles and links:
Products:
Kaspersky Lab Enterprise Security Solutions and Services
Threat Intelligence Definition. Why Threat Intelligence Is Important for Your Business and How to Evaluate a Threat Intelligence Program
Kaspersky
Threat intelligence analyzes cyber threats aimed at your business. Learn more about threat intelligence, why it's important and what to keep in mind when evaluating a threat intelligence program.